Dear Fellow Entrepreneur:

"Everything you've heard about the knowledge and idea economy is true. In fact, it's quickly reshaping the global economic landscape by staggering proportions. The shift will impact the lives of us all in a profound and signifcant way.

For 97% of all W2 wage and salary workers, it's now A. continue to get paid a living wage for 'what you do' … and endure the struggle to keep your head above water … OR B. leverage 'yours and other peoples' knowhow, expertise & ideas … and grab your slice of the bigger pie'.


In his Best Selling book, The World is Flat, New York Times columnist and renowned business author Thomas Friedman traveled all over the world documenting how workers in industrialized nations like the United States, Great Britain, and Japan are rapidly transitioning from a manufacturing based economy into the idea & knowledge economy.


"If you're paying attention, the fruits of your labor can now be measured by the increased value an executed 'idea' generates in the market place, and no longer restricted by the number of hours punched into a time clock." That's because businesses today face a huge innovation deficit. And they're paying big bucks for those 'ideas' that'll make their businesses more innovative, more competitive, and more profitable. In the knowledge & idea economy, employees (W2 wage and salary earners) customers, vendors, even retirees are all potential seeds of innovation. Emerging from this group will be the 21st century idea broker. And they'll come from walks of life, serving small and big businesses alike.


The sad truth is most workers are unwittingly selling themselves short. Our true earning potential never fully realized because we mistakenly limit our market worth to the extent of 'what we do' (punching the time clock) instead of recognizing that our experience, collective ingenuity and know-how is a goldmine for generating new wealth. In other words, in this new economy, our 'ideas' could be worth a fortune.


And right now people from all walks of life and occupations must find a way to get in … or get left behind."

Welcome to The WVP2 Consulting Group - pioneers in the intellectual venture capital industry.

We're currently building our in-house team of idea brokers who'll play an important role in helping us develop, refine, and polish those 'ideas' that ultimately help make our clients more money.

An idea broker, also known as an intellectual venture capitalist … is someone who introduces soft innovation i.e. ideas, concepts, strategies, systems, techniques, tactics and best practices to other businesses.

In a nutshell … 'ideas' that help businesses become more innovative … more competitive … and more profitable. If you're thinking this might be beyond your abilities, then consider this …

An 'idea' capable of dramatically impacting the fortunes of a business can be as simple as a U.S.P.(unique selling proposition) Think "Fresh Hot Pizza Delivered to Your Doorstep in 30 Minutes or Less … Guaranteed! Or You Don't Pay!" 17 carefully chosen words that formed the back bone of a billion dollar pizza empire known as Dominos. And no! We didn't create this gem. Although I wish we had.

… or more complex like the business models we recently developed for two start-up companies. One providing senior care services in the Washington D.C. area, the other a calling card company in Spain.


You can also 'boiler plate' a money making concept then roll it out to hundreds of businesses simultaneously; like our customizable 'Customer Feedback System" designed to increase retention and customer loyalty.


In exchange, idea brokers are paid on a percentage of the above and beyond profits those 'ideas' help generate.


Compensation packages are often performance based and may come in the form of: cash, percentage of gross sales or net profits, monthly subscription fees, fee for service, licensing deals, royalty checks and in some cases even … equity ownership i.e. stock and stock options. We simply call it … income-on-demand!


And guess what? With over 12 million businesses operating right here in the U.S., many which are in fact suffering from an innovation deficit, not to mention the fall out of a deep recession, there's more than enough to go around. For the select few who learn how the game is played, they'll be the ones positioned to cash in as the industry takes off.

Could you be that special person who'd make a valuable addition to our intellectual venture capital team? Right now, we're just a few members shy of rounding out our roster. Comprised of talented & enterprising individuals from around the country, each member is eager and committed to making their mark as a modern day idea broker and in the process … banking some serious money. If you hurry, maybe you can join them.

Once our team is established, we'll be brainstorming on a variety projects serving all types of businesses, large and small alike. For instance, we recently developed a viral ad for the Coca Cola Company. If you remember the "Things Go Better with Coke" campaign of the 70's, then you'll love what we've created here. Already 90% developed, our "How Ya Drink Your Coke?' concept engages actual consumers and leverages the power of social networking. Collaborating with members from our ivc team will allow us to fine tune and put the finishing touches on this potentially lucrative project before we sit down and formally introduce it to key decision makers at Coca Cola.

Naturally at this stage we don't expect you to know a whole lot or to be an expert on things.


That's Ok! And why our board of directors has decided the quickest way to bring you up to speed is to invite you to participate in our 'Income-on-Demand' Orientation' ... designed to get you comfortable with everything first - before you move onto a platform that provides you with a bread & butter income source realistically capable of earning you up to $1,500 or more per month. This earn-as-you-learn system affords you the luxury of pursuing more ambitious projects at your leisure where the payoff could be substantial, like our Coke project. This is a pretty conservative approach we've taken and you'll probably want to do the same.


Anyway, our 'Income-on-Demand' Orientation is the critical first step to getting started and cashing in as an idea broker. It fills you in on all the inner workings of the intellectual venture capital / idea broker industry and takes you directly to where the action is. This is a no-nonsense – no risk way to starting you off on the right foot where you'll learn how to turn yours and other people's know-how, expertise & ideas into Income-on-Demand.

All your questions are answered before you decide to go any further. A prerequisite to joining our team, you'll be able to complete our in-depth orientation from the convenience of your home or office in just a few evenings.

To learn more ... click on the "our team" link appearing above upper left . When you click on this link, we'll introduce you to our ground breaking resource titled Millionaire Idea Broker - Insider's Guide "How to Turn Yours and Other People's Expertise, Know-How, and Ideas into Income-on-Demand." (here's a quick snap shot of what it looks like)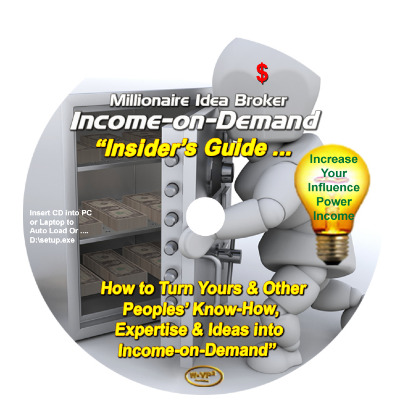 This is an unprecedented opportunity to fully investigate this unusual opportunity absolutely RISK FREE. As you're about to discover, our "Income-on-Demand Orientation is presented on a special CD ROM which you can study from home or office at your leisure.

We look forward to having you join our intellectual venture capital team ... and helping you successfully launch your idea broker career.

The WVP2 Team