The WVP2 Consulting Group is now using this resource to assemble its intellectual venture capital team. Your Income-on-Demand Orientation is found on this very resource.

Volume 1 provides you a comprehensive overview of the intellectual venture capital industry and idea broker opportunity. It contains 395 in-depth pages.

Volume 2, "The Idea Broker's Essential Tool Box"© is 178 pages and takes you deep behind the scenes on how to successfully put together those projects which can potentially earn you between $50,000 and $750,000 a year.

Volume 3 is a series of must-read articles you won't want to miss out on. Here you'll see first hand how modern idea brokers are turning simple concepts, strategies, techniques, and tactics into million dollar pay days. See how people who possess no more experience or talent than anyone else have discovered how to capitalize in the idea & knowledge economy .. stories which were unimaginable just five short years ago. These stories will both inspire and motivate you.

Volume 4 introduces you to the Wealth Builders Business Academy where you can jump start your business with little more than a computer and internet hookup.


A massive collection of insider knowledge and key insights, this 'tell all' resource reveals …

how to harvest marketable ideas from a myriad of affordable resources
what types of 'ideas' produce the biggest pay days
simple 'easy-to-execute ideas' which get your foot in the door with potential clients
how to tap into the collective ingenuity of others using web based collaboration tools
develop, fine tune, perfect: build maximum value into an idea or concept w/ F.L.I.R.T.
how to successfully submit your ideas and concepts to key decision makers
what an idea submission vehicle looks like and how to use it to successfully
how idea brokers get paid i.e. cash, stock options, equity, licensing & royalties
how to structure win–win compensation packages
the 5 factors that must be met before business's act on your idea
3 challenges facing the industry and how best to exploit them in your favor
legal considerations and special forms you need to know about
There's a whole lot more of course. You'll also discover ...

how to identify below-the-radar opportunities no one else can see
why it's more profitable to start small
how just 1 single idea can become a million dollar a year cash cow
turn-key systems you can plug into to quickly launch and grow your business
single out the most lucrative industries and where new producers should begin
7 Critical Mistakes to Avoid When Starting Out
establish your corporate Idea Bank - the smartest move you'll ever make
how to leverage free market forces that compel businesses to take action
Anyway, our Income-on-Demand Orientation is the critical first step to getting started and cashing in as an idea broker. It fills you in on all the inner workings of the intellectual venture capital / idea broker industry and takes you directly to where the action is.

This is a no-nonsense – no risk way to starting you off on the right foot where you'll learn how to turn yours and other people's know-how, expertise & ideas into Income-on-Demand. All your questions are answered before you decide to go any further. A prerequisite to joining our team, you'll be able to complete our in-depth orientation from the convenience of your home or office in just a few evenings.

Bottom line: The Insider's Guide … CD ROM shows you everything you need to know to succeed as an idea broker. It's your official orientation that allows you to safely explore this unique opportunity before going further.

This rich resource promises to fuel your career and put you on the fast track to join the higher echelons of income producers in 'the idea and knowledge economy'. You'll master a valuable new skill you'll always be able to use and profit in any job, career opportunity, or business endeavor you engage in from here forward. Again, after your orientation, you'll be presented with a rare opportunity where you can join our team and cash in with a turn-key system we'll design to jump start your success.

The CD Rom is also your on-ramp to a comprehensive platform which enables you to get started without any prior experience … or you having to stumble through an otherwise time consuming learning curve.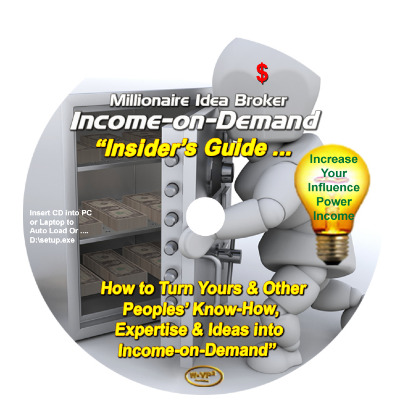 Once you're finished, you'll be given an opportunity to provide us your feedback and input, followed by a special invitation to join our ivc team where you'll enjoy exclusive access to our IVC launch pad services.

Although we provide all the training, a degree of creativity, ambition, and a hunger to champion a good idea is required. Suffice it to say, this isn't for everybody. Something tells us however you'll fit right in.

Because this is highly sensitive profit-generating information, I'm sure you can appreciate the fact we're very selective who we decide to share it with. That's why you'll need to call us first before you can access the password protected content which comprise the Income-on-Demand Orientation – all presented on the enclosed CD ROM.

Please note, this is an unprecedented opportunity which shows you how to increase both the short and long term fortunes for all types of businesses. You'll be joining a select group of people who understand in the knowledge and idea economy, a simple executable 'idea' can now be turned into cash income.

So if you're genuinely interested in enrolling in the Income-on-Demand orientation, joining our ivc team, and profiting as an idea broker, then please call me no later than 5:00 PM Friday, January 15th 2010, at which time we'll discuss how you can take the next step with us. We'd love to be the ones who help you ultimately launch a financially rewarding full or part time business where the income potential is limited only by the imagination.

But you must hurry! Enrollment slots are limited and available on a first come - first served basis.

We're only a few steps away from adding the last few members to our inner circle brain trust … whom we'll soon be collaborating with on our next ivc project. Some of those already in the pipeline and near completion include the ad campaign for Coke, a headline jingle we created for Fidelity Investments, marketing campaigns for ask.com and Ci Ci's Pizza, and a series of customer oriented profit-modules for Wal-Mart Stores, Inc.

Once our core team is established, we don't anticipate having to expand it any time soon.

We look forward to hearing from you … Respectfully,


'Zig' & the WVP2 Staff

202-280-7636